Intratone

Entrance Dynamics is authorised distribution partner of Intratone intercom systems and access control systems. Intratone produces innovative products, that are competitively priced, despite the advanced technology.
Intratone makes access control systems with a GSM (GPRS) module, that can be managed with a web application. Voor a very interesting price, you can have a complete system, including sim card with 10 years unlimited data communication! An ideal solution for existing buildings, and retrofits, where internet and LAN cables are readily available at every entrance.
Below you will find some examples of Intratone products Given the broad offering of products, we stand prepared to help you select the optimum solution for you.
Intratone HF Mini
Access control with hand transmitters? Yes, absolutely! With the Intratone HF Mini kit, you can manage the receivers, and hand transmitters with a web application. Adding, deleting or time restricting transmitters, it's all possible and easy to manage!
As you would expect, you can also retrieve the activity log. And becuase the HF Mini Kit is supplied with a GSM (GPRS) module with 10 years unlimited data communication, you can use the same kit as a GSM receiver. Even the "Mobile Keys" can be managed from the web application. All this for a very competitive price!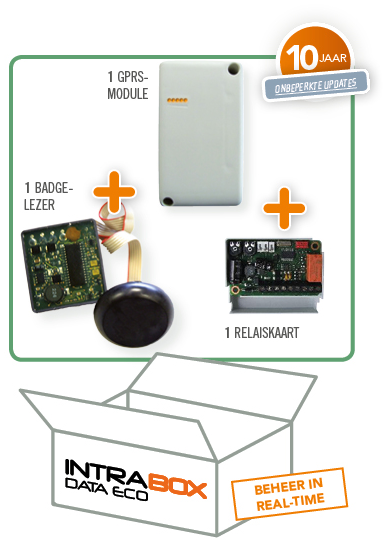 Intratone IntraBox LP Kit
The Intratone LP Kit contains everything you need for a well controlled access, without the need for any cabling! A proximity ready, a relais card, and a GSM (GPRS) module.
The LP Kit is also supplied with a GSM module (with 10 years unlimited data communication), which means the kit can be used as a GSM receiver as well. You could have tendents use a proximity tag, while providing the incedental visitors, such as property maintenance crew, one-time or restricted access using their mobile phone.

For a very attractive price you can now manage every entrance remotely!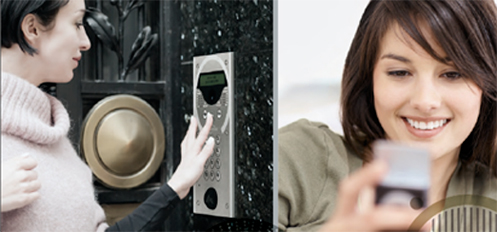 Intratone Intercom Systems
No need to have a phone receiver in every appartment or lobby of the building. Intratone replaces this with the (mobile) phone of the residents. A universal solution, available to anyone! It's now very easy to see who's at the door, regardless of whether you are at home, or shopping for groceries at the supermarket! The Intratone intercom systems are financially accessible because these systems are up to 10 times more cost effective than hard-wired systems!


Intratone remote controls and proximity fobs
The Intratone remote controls and proximity fobs are sleek looking, safe and very durable.The four-button remote control actually has an integrated proximity fob!