EDSL450 Sliding Door Operator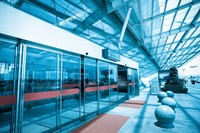 Prices for these sliding door operators are only available upon request. Click here to request prices and terms for these products.
The universal sliding door operator, that meets the most stringent norms and demands 
The Entrance Dynamics EDSL450 sliding door operator meets all today's requirements in terms of reliability, universal application, easy operation and low maintenance. The high-quality state-of-the-art electronics combined with the robust drive make it an discreet and quiet unit.
This operator is suitable for any sliding door application. The powerful drive can even open very heavy door panels and be used in escape routes in all European countries.
The EDSL-CU-450 Control Board
The EDSL-CU-450 controller is equipped with three microprocessors: a main processor, a backup processor, and a "watchdog" processor which constantly monitors all safety functions in both the door drive and the connected sensors, and guarantees optimum safety. The Entrance Dynamics EDSL450 is certified to the strictest standards in Europe. It can even be used in escape routes according to DIN18650 and EN16005 standard. The EDSL-CU-450 is the first sliding door control system which is able to control all types of monitored sensors, regardless of the communication protocol.

All this makes the EDSL-CU-450, the most advanced sliding door control system in the world.

The Entrance Dynamics EDSL450 Sliding Door Operator offers:
One solutions for all sliding doors
Quick and easy installation
Monitored battery backup
Built-in cycle counter
Easy to connect any external accessory
Important Characteristics:
Quiet operation
Easy to install, commission and use
Universal
Reliable
Modern design
Click 
here
to download the data sheet for this product.