EDSL450 Retrofit kit for sliding door operators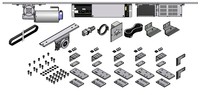 EDSL450 Retrofit kit
Upgrade kits are used to modernise existing sliding door operators, and bring these to the latest technology in performance and safety, and in compliance with the highest standards (including EN16005 and DIN18650).
Entrance Dynamics is proud to offer the 
EDSL450 retrofit kit
. 
Prices for these kits are only available upon request.
Click 

here

 to request prices en terms for these products.
Click 
here
 to download the data sheet for this product.
The universal sliding door drive that meets the most stringent safety requirements
The Entrance Dynamics EDSL450 / EDSL450ER Sliding door retrofit kit meets all of today's required qualities of being reliable, universal, easy to operate and inexpensive to maintain. Its sophisticated state-of-the-art electronics together with a robust motor and gearbox provide a discreet and silent unit. This sliding door retrofit kit is suitable for almost every existing sliding door operator. The powerful drive is capable of opening heavy doors and the
mechanical fit with the standard supplied brackets is practically endless.
Entrance Dynamics EDSL-CU-450 control unit
The EDSL-CU-450 control unit has three microprocessors. One main processor, one backup
processor, and one so called "watch-dog" processor that continuously monitors all safety
features in the control unit and the sensors, and ensures that the door will remain safe when a fault occurs in any of the monitored systems. The Entrance Dynamics EDSL450 is certified
according to all current and all known future regulations in Europe. It is prepared to be used in
escape routes according to DIN18650 / EN16005. In fact, the EDSL-CU-450 is the first sliding door control unit that is capable of handling all monitored and redundant sensors (regardless of
the monitoring protocol), almost any existing lock (regardless of voltage and type), and even most existing motors that are on the market today. All this makes the Entrance Dynamics EDSL-CU-450 the world's most advanced sliding door control unit.